It is a great honor to have been selected to create the cemetery monument for legendary, North Carolina State basketball coach, Kay Yow.As the project evolves, I will post the progress on this page. I will show you the basic concept drawings and, as the work progresses, I will post photos of the monument as I am working on it. This page will show you how I gained insight about Coach Yow, and there will be links to various articles and video clips. I hope you find this page informative and helpful.To all the family, friends and fans of this incredible person, I want you to know that I will do my very best to create a beautiful and fitting tribute. If you have any questions or comments, feel free to contact me.
Basic design for the Kay Yow cemetery monument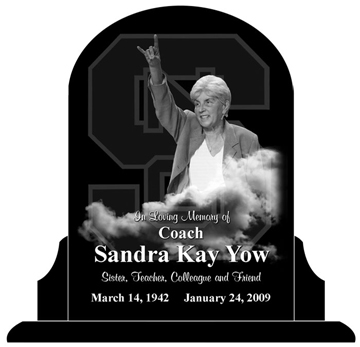 I got the inspiration for the shape of the center section from the "key" under the goal on a basketball court. The stone will be polished all the way around.
UPDATE: 9/8/09 This drawing was featured in an article written by Mechelle Voepel for ESPN.com. If you would like to read the article, then here is the link: http://sports.espn.go.com/ncw/columns/story?columnist=voepel_mechelle&id=4451856
APRIL 27, 2010 - After some long days and nights, the stone is finished and has been set in the cemetery. I am working on updating this section with some photos that were taken as I was working on the monument and some good pictures of the finished work.... please be patient with me while I update this.